Six weeks to go to till Cruel Heart Broken hits the shelves and I'm at that stage where I can barely wait any longer to launch it into the world. You spend so long working on a new book, that the final run-up to publication can feel both agonising and nerve-wracking.
To mark the run-up to publication, Usborne are giving away 10 early copies – you can enter the giveaway here. Here's a preview of the cover:
I was chuffed the book got a mention in The Bookseller: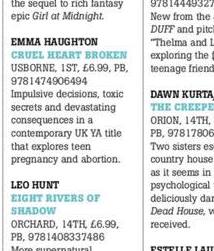 Though I've been having a breather after finishing the copy and proof edits for the new book, I've been doing a bit of blogging, including a piece on writing YA thrillers for the Writers & Artists website – you can read it here. And over on Author Allsorts, I explained why I love writing high octane fiction.
Meanwhile, there's been plenty to keep me occupied, including three dogs and a garden growing more weeds than you can shake a spade at. And I've been busy on the crafting front, recently finishing this green Mayhem shawl for cosying up on rainy days. Don't you just love that zingy green? And below the Coast ripple blanket designed by Attic 24 – a present for my daughter's birthday.